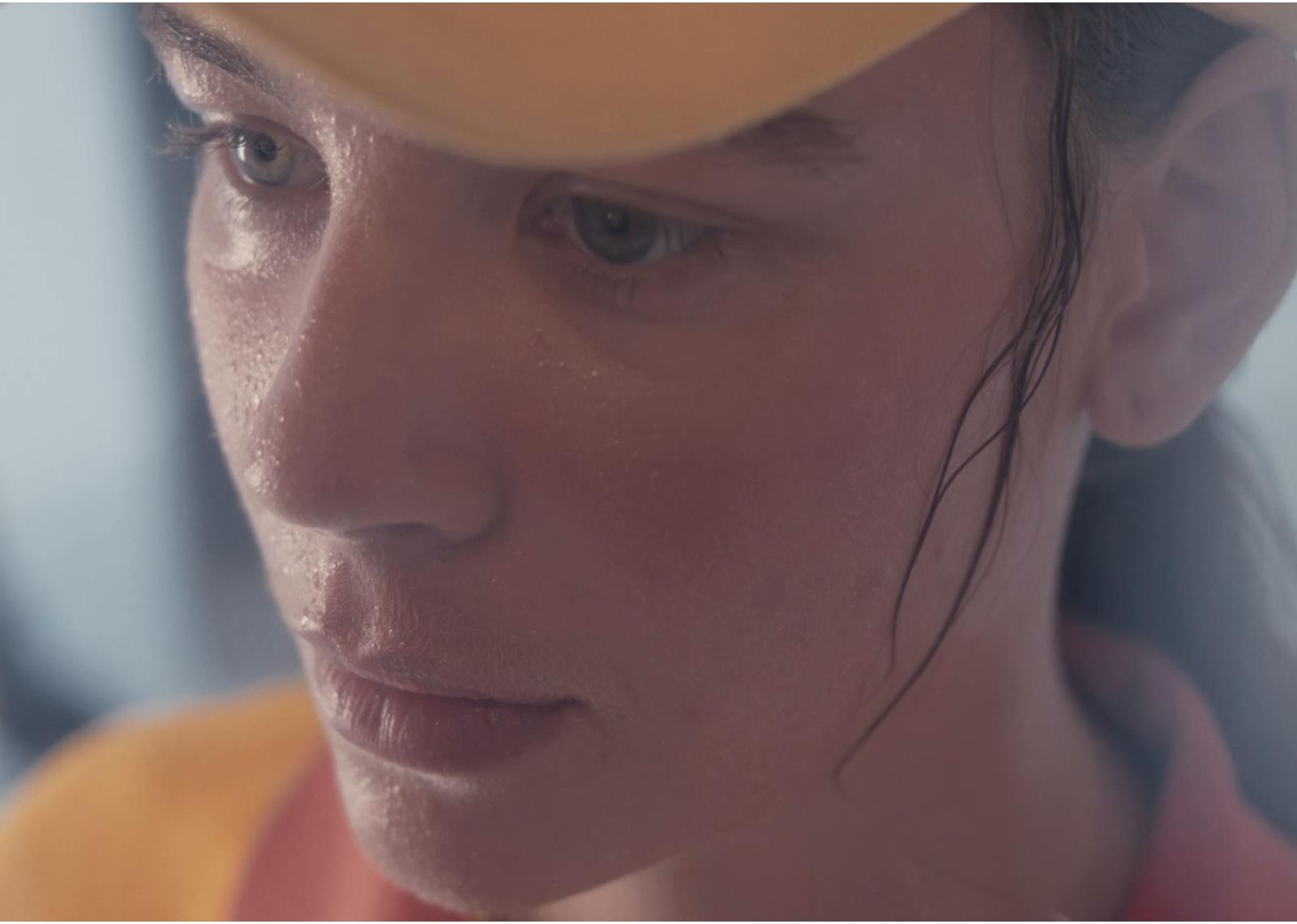 ---
What is hyper-capitalism in a stagnating society?
In episode 4 of Simon Dybbroe Møller's series, What do people do all day, workers stand around as if in a still life. All kinds of vocations are represented, from food delivery workers to doctors, dog walkers, stylists, and a Medieval hooded figure referencing allegorical depictions of death. In construction helmets, biker gear, and lab coats, holding drink trays and wrenches, they are all idling. But they are not frozen, just listlessly occupying the liminal space of the locker room, stuck in the ambivalent transition between everyday clothes and workwear, nakedness and professionalism, compulsory heteronormativity, and raging queerness. 
Soon we notice that they are sweating profusely. Is it out of anxiety about their future? They seek each other's bodies, but no one knows if it's enjoyable or just another task in the workday. There is no emotion as they touch each other like aliens discovering human flesh for the first time. Is that what happens in Limbo, between heaven and hell? Sexless sex and workwear with no work? Or are we at an Amazon-sponsored nightclub for exhausted laborers?
Ellio Petri's 70s political drama, The Working Class Goes to Heaven, plays in the background. A ruggedly sexy Italian factory worker has come to understand his status as an exploited, faceless cog in the machine. While he makes an impassioned speech to his fellow factory workers about trade unions, the disillusioned locker room workers seem too fragmented to organize, too tired to speak their discontent. 
WDPDAD plays out different takes on agency, belonging, worth, and resistance against each other, but offers no opinions, and no solutions. Maybe it points to a dead end in our thinking? 
Music is by the Danish band Lollipops, founded by teen brothers in the 60s along with Amnesia Scanner. The credits roll over footage of a plaster cast collection of seminal historical figurines like a 2,500-year-old Greek Calf Bearer, the 30,000-year-old Venus of Willendorf, and a 2,000-year-old Egyptian Ba-Bird, a falcon with the head of a pharaoh.